UAV Services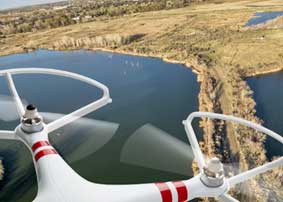 Funtec has added a new service and in turn offers added value to our clients.  The Unmanned Air Vehicle (UAV) can provide low altitude aerial photography (still/video) for oil and gas activities.
All UAV units will operate within Transport Canada SFOC Regulations and are fully insured.
The following outlines the various approaches where the UAV Services can be applied.
Call us at 1-780-882-0040 to discuss your customized solution.
Land Regulatory Services
Assist with Pre-Site Assessments
Assist in evaluating Sensitive Areas

Watercourses
Species at Risk

Disposition Inspection Services

Pipeline Inspections
MSL/LOC Inspections
Project Services
Document ongoing construction progress

Creating video construction timelines

Construction Completion Report
Assist in the reporting of construction issues, crossings, etc.
Documenting Directional Bores of watercourses
Pipeline ROW inspections